Whether you are purchasing a newly built home and get to choose the garage door for it, have just built a garage addition to your residence, or need to replace an existing garage door – the task can be overwhelming at first. We can help! There are many variations in garage doors such as size, thickness, insulation value, design, style, and material.
Your first requirement is to know what size garage door will best fit. The height, width, and thickness can help determine the type of door that will work best. When you are working with us, our installers will perform a pre-installation inspection and take measurements at your home to ensure that your garage door, opener, and any other accessories shall fit properly.
We can help you choose a garage door that works well with your family and your lifestyle.
Think about what you will be doing in or around your garage. Will your garage be just for your car, or will it also be your workshop? Will you do laundry in your garage or use it for occasional entertaining – or even guest sleepovers? Many homeowners do use their garages as extensions of their living space. You will want to choose a door that helps to maintain a comfortable temperature inside and has an overall energy efficiency. Depending on your location's general climate, choose from steel or aluminum for your home. If you will have a workshop in your garage, you may want to get the highest R-value you can – to make heating and cooling your space easier. Want windows installed in your garage door? You will need to consider if you have a basketball hoop nearby or active children that play in the area with bikes, balls, scooters, and skateboards.
Did you know that getting the perfect garage door for your home not only increases the value of your home and your home's curb appeal, but can also improve your home's energy efficiency. The average home garage door takes up almost 40% of the exterior facade. A garage door is the largest movable object on a home and can last for more than 25 years.
Compliment your home's architectural features with a garage door that enhances rather than competes. We can show you a full line of contemporary, traditional, or country-style doors to choose from. There is a garage door style that would suit your country cottage, Victorian home, ranch, Colonial bungalow, or your contemporary town home. The color of your new garage door should harmonize with your home's look. Match the door to the color of your window frames, or choose a color that picks up the color tones of your brick or exterior cladding. The structure of your garage door is enhanced by its panels.
There are several panel types:
| | |
| --- | --- |
| Decorative Overlays add a touch of character to a traditional garage door. | |
| Flush Panels are flat and lightly-textured and used to complement the surrounding exterior walls without being a strong focal point. | |
| Grooved Panels bring forth clean horizontal lines of geometric interest to modern or contemporary homes. | |
| Short Raised Panels help to add depth to the door which makes them nice for the symmetrical facades of colonial-style homes, for Victorian-style homes with detailed trim, or to bring out the architectural lines of a Tudor home. | |
| Long Raised Panels provide depth and distinction while adding visual length to the home's overall appearance. | |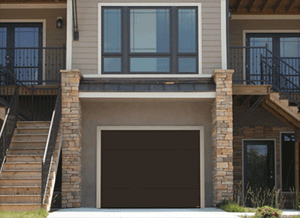 Windows can be incorporated into your garage door to let in light or just to better match your home's existing windows. The windows can be opaque to prevent any view inside, translucent to allow light but stay private, or tinted windows to block direct sunlight and add privacy can be used. Windows placed in the third section from the bottom of the door would enable you to look out of your garage door, while windows placed in the top section of the door allow for natural light and privacy. We offer an extensive choice of weather-tight and durable decorative garage door windows. The various styles of garage door windows are: Standard, Antique, Orion, Printed Process, Plastic Inserts, Arch, and Panoramic. The panes can have patterns between the glass, be clear, decorated, or have a beveled design.
Your door's size, model, insulation rating, and any additional options can affect the cost. We can help you easily understand the choices and accurately estimate your project. When considering your budget, know that your door will be made to last, include warranty, and with regular care can last 25 years or more. A bit of extra money spent could provide benefits for a lifetime – and help to increase the value of your home.
From carriage house style doors, contemporary models, traditional beauty – to an array of panel designs and colors – we will help you find the options that best suit your needs and personality. We can explain energy efficiency, warranties, and work closely with you at our Showroom Superstore to refine your choices via the Garaga® Design Centre application to see what your new door will look like on your home.