Lancaster

Door Service is your Garage Door Opener Pro

Lancaster Door Service, LLC is your local dealer and installer of LiftMaster's® fine line of commercial garage door openers. LiftMaster's® Custom Solutions are integrated packages that combine advanced technology features as well as helpful accessories.

WE CAN HELP DETERMINE THE BEST GARAGE DOOR OPENER FOR YOU

The three types of garage door openers are Jackshaft, Trolley, and Hoist.

Jackshaft Operators are ideal for industrial applications and doors used with this type of opener should be balanced with the ability to be manually lifted in case of an emergency or power outage.

Trolley Operators are perfect for general industrial applications using sectional overhead doors.

Hoist Operators are best suited for busy industrial applications. Hoist openers include a floor level chain hoist to ease the manual operation of the door in case of an emergency or a sudden power outage.

Your commercial, industrial, or agricultural garage door and opener system not only provides access to your business – it also protects your investment and personnel.

We welcome you to Contact Us to discuss your opener requirements. Our knowledgeable staff can show you examples from our extensive selection of commercial garage door opener models at our showroom.

The pros at Lancaster Door Service can help you with the purchase and installation of a door operator system for your:
Business Warehouse




Storage Facility




Service Garage




Firehouse




Showroom

Production Area




Shipping & Receiving




Gated Community




Farm Building




Out Building

As certified Garaga® Experts, we proudly meet the highest standards of the professional garage door service industry. We sell, install, and maintain entire garage door operating systems.
The quality and performance of any garage door depends on professional installation. Lancaster Door Service technicians are professional installers that closely adhere to the tested and proven procedures put forth by the manufacturer.
Commercial

Garage Door Openers
LiftMaster®

H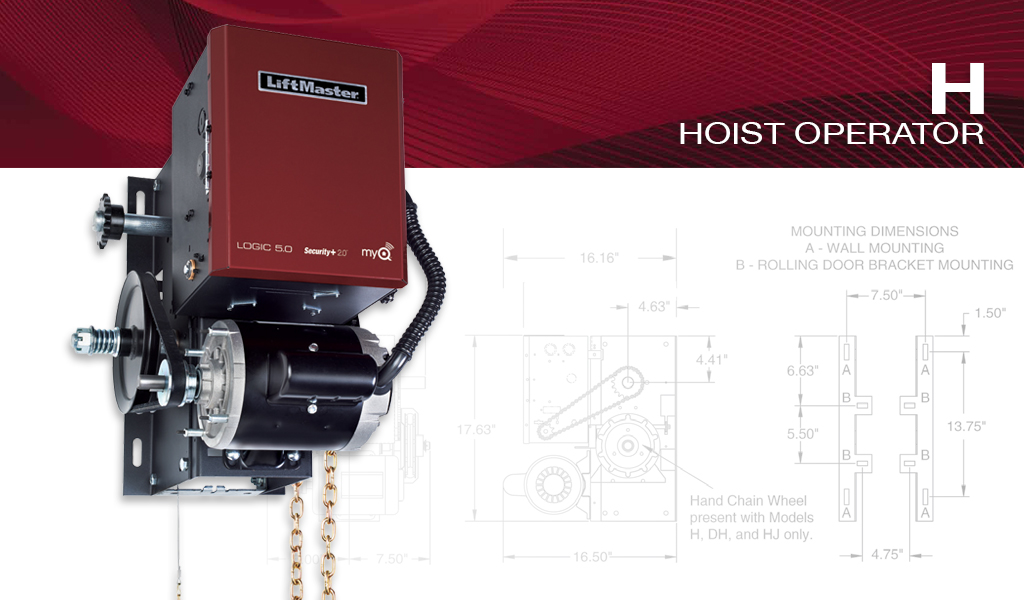 INDUSTRIAL DUTY HOIST GARAGE DOOR OPENER
The LiftMaster® H model is for use on vertical or high-lift sectional doors, rolling doors, and grilles. It features a floor level chain hoist with electrical interlock for emergency manual door operation.
LiftMaster®

HCTDCU

HIGH-TRAFFIC DUTY TROLLEY DOOR AND GATE OPERATOR
The LiftMaster® HCTDCU model is the ultimate high-traffic door and gate operator for apartment houses and low-profile applications. This model delivers safety, dependability, and quiet operation. It includes a Security+® receiver, built-in electronic reversing device, heavy-duty track and keyed trolley assembly.

Knowledge You Can Trust
Lancaster Door Service, LLC sells and installs durable and functional garage doors and openers for commercial, agricultural and industrial applications. We welcome you to contact us to discuss your project. Our knowledgeable staff will review your requirements and show you examples from our extensive selection of commercial garage door opener models.