Lancaster

Door Service is your Garage Door Opener Pro

Lancaster Door Service, LLC is your local dealer and installer of LiftMaster® and Hörmann® Residential Garage Door Openers. Each offers integrated packages that combine helpful accessories and advanced technology. These openers are designed to perform and built to last – and most include great lifetime warranties. Our openers bring smooth and reliable operation for your daily use while providing you with the control and safety that you want in a garage door opener.

WE CAN HELP DETERMINE THE BEST GARAGE DOOR OPENER FOR YOU

The pros at Lancaster Door Service can help you with the purchase and installation of a door operator system for your home's garage or other building.

Some of the biggest concerns facing home owners are safety, energy savings, security, and convenience. No matter which residential garage door opener you select - we have a full range of accessories to include such as Remotes, Keypads, Light Switches, as well as other useful hardware.

Our residential garage door operators include safety sensors that can detect obstruction of the door and stop the door from closing. This feature protects your family members, pets, and vehicles. All of our LiftMaster® models incorporate The Protector System® and our Hörmann® openers include their own Safety Beam System. This means that these openers used infrared technology that projects an invisible light beam across the garage door opening. This beam, if disturbed, will trigger automatically to reverse the door and stop the door from closing. A light on the opener will illuminate to notify the user of the interruption as well.

You can choose from remote access devices and internet-based secure monitoring systems that allow you to conveniently control the door opener from your computer or mobile device.

We welcome you to Contact Us to discuss your needs. Our knowledgeable staff will review your requirements and can show you examples from our extensive selection of residential garage door opener models at our showroom.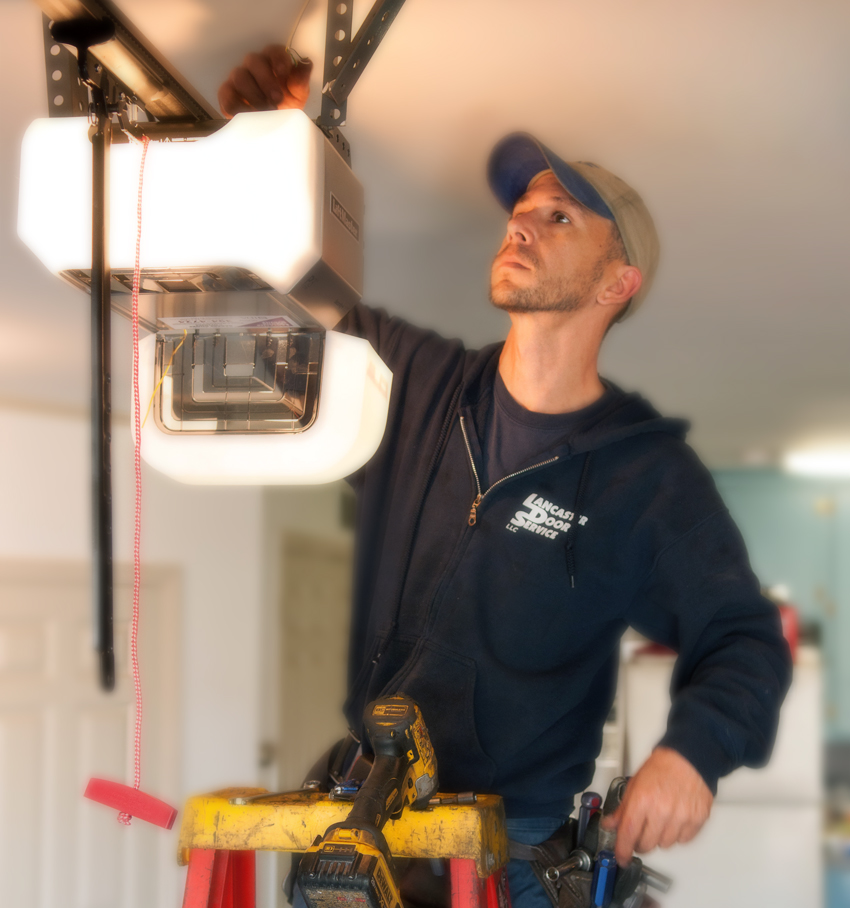 We offer a full range of Garage Door Opener accessories to choose from.
Remote Controls
Visor Remote Controls
Wireless Keyless Entry Systems
Control Panels & Keypads
Internet Enabled Smartphone Control Systems

As certified Garaga® Experts, we proudly meet the highest standards of the professional garage door service industry. We sell, install, and maintain entire garage door operating systems.
The quality and performance of any garage door depends on professional installation. Lancaster Door Service technicians are professional installers that closely adhere to the tested and proven procedures put forth by the manufacturer.
Residential

Garage Door Openers

Financing Available
Lancaster Door Service offers 18 month no-interest financing for qualified buyers! We also honor all manufacturers' warranties and we guarantee our parts & labor on every door and opener we install.
Apply Today!